Classic Cardiff - Private Tour (Individuals & Groups)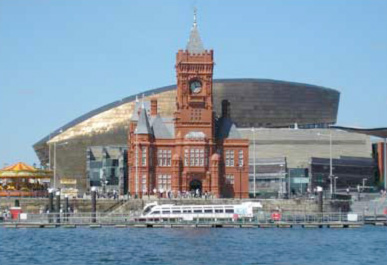 Walking Tour Length: Approx 4 hours
Walking Tour Price: £40 per person - minimum two people.
(Price includes water taxi - one way to the bay)
This is your exclusive, private, escorted walking tour that takes in the classic sights of Cardiff City Centre and Cardiff Bay, with a connecting water bus trip.
This walking tour can be personalised to suit your interests and schedule but we highly recommend the following.
Basic details of tour: starts at Cardiff Castle and will visit the city centre and Cardiff Bay. We'll have a break for coffee (or tea) along the way and then finish at the bay or you may choose to walk back to the city (20 mins).
Our recommended itinerary
We'll start at the front entrance to Cardiff Castle then continue with a circular walk of the city centre. We see the world famous Animal Wall and gothic revival castle (exterior), Bute Park Arboretum, Civic Centre including City Hall & Museum and then stroll through the shopping district with its Victorian shopping arcades, bustling indoor market and close by, the famous rugby grounds of Cardiff Arms Park and Millennium Stadium. We'll then arrive back at the river and go, by water taxi, to Cardiff Bay to discover how the city became the biggest coal port in the world and now a fabulous entertainment.
Cardiff Bay takes us through the Wales Millennium Centre, the Pierhead building and the home of Welsh democracy, the Senedd and along the waterfront.
Along the way on your in-depth tour we'll introduce you to 2,000 years of Cardiff's history and tell you about the Romans, Welsh Princes, Normans, the Marquesses of Bute and Cardiff's glory days as one of the greatest industrial cities on earth.
The walking tour finishes in the heart of Cardiff Bay outside the Wales Millennium Centre. You can stay here and enjoy the bay or walk back into the city (20 mins) with your guide.