Corporate and Group Walking Tours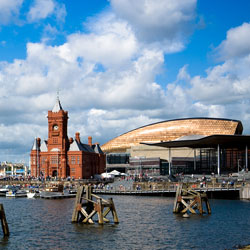 Cardiff on Foot welcomes corporate and group bookings. If your group is visiting Cardiff or if your business is planning an event then a tailored Cardiff walking tour is the perfect way for your guests to see the city.
Walking Tour Length: As long or as short as you like.
Walking Tour Prices: We will offer a competitive, discounted rate based on the size of your group and the length of the walking tour.
Choice of Walking Tours : You can chose from our current range of walking tours or we can design a walking tour to suit your interests and schedule. Options include being met at your hotel or venue, starting the tour in either the City Centre or Cardiff Bay, breaks for tea or coffee, boat trips and entrance to Cardiff venues if required.
We will be happy to advise you about restaurants, pubs and other activities in Cardiff.
Cardiff on Foot prides itself on its its high standard of customer service. Our priority will be making sure that your event is great success.
Please contact us at This email address is being protected from spambots. You need JavaScript enabled to view it. or telephone 00442920227227 to discuss your booking.